Usually, men dress boots which they usually wear during fall and winter season is about to arrive. It is also acceptable to think that most men wear the same shoes whole year round with only different colors. Some fashion items of men last year is still wearable right now. Boots are fashion articles that stand for all ages.
However, not all men find comfort in wearing boots. But certain events require the use of boots as part of the outfit. Some men are too shy to wear boots and wouldn't incorporate it into their daily outfit, and that is sad to think.
If a man wears the right outfit matched with the right pair of boots, they can bring a level of style and elegance that no other shoe type can bring out. It is a common question for men if they really should wear boots. However, the real question is how should they wear it.
Since a lot of men don't have enough knowledge about boots, here are some facts about boots that will surprise you. From the importance of wearing boots to the fashion ideas while wearing boots, this article can suffice such ideas to every man out there.
What is a Dress Boot?
Dress boots are short leather boots that men wear. Dress boots are like dress shoes, but it has an upper part that covers the ankle. They are usually the first options for any daytime formal wear events. Also, the version of the boots is typically an alternative when the outdoor condition is pretty rough.
Why Wear Dress Boots?
It Gives Protection
From a realistic point of view, boots are useful items that will take care of the feet better than a shoe will. Dress boots give extra protection to the feet either for environmental hazards or inclement weather. It also becomes the reason why designers incorporate boots as an accessory for fall or winter.
It Has A Versatile Style
Wearing boots can change a man's fashion style. When people wear them, they can look outdoorsy and feel like they are ready to chop some woods or go horseback riding with this kind of shoes.
Nowadays, the society has a habit of emphasizing things that focus on having a healthy and active lifestyle. People think that a man breaking sweats are attractive, and wearing boots can give that kind of vibe.
It Gives A Message
Dress boots give specific messages. This footwear has a particular theme that the person who is looking can interpret.
Masculinity. When men wear boots, they appear to look big and manly. The reason is that men cover their legs more and they look heavier compared to the shoes. Some boots have large heels, and dress boots aren't as polished compared to dress shoes. Wearing boots can also give a more rugged look to men which some women like.
Social Status. The ability to afford a cover-up for the upcoming cold season can imply a status more than average level.
Responsibility. Men wearing boots give a message that they can take care of themselves.
Respect. Concerning the military history, men that wear boots look more respectable than average. Also, wearing boots make a man look significant and notable.
Character. Wearing boots give a particular character to a man. It lets a man choose the boots and doesn't allow the boots to overpower them. There is a boost in confidence while dressed in a pair of boots.
The Sense of Style. It shows that a man wearing boots has a highly promising sense of style since they bought boots that look good on them. People will think that this man, wearing a pair of dress boots, didn't buy the pair because he just needs it.
Personality. The boots that men wear represent their character and their true best self.
What are the Parts of Dress Boots?
Now, it is time to have a better understanding of the composition of a boot. The parts reflect the type of boot or lacing a particular pair has.
Upper Part
The components included in the top portion and the ones found above the sole. These include the appearance, design, and circulation.
Quarter. It is the part that covers the sides and back of the boots. Also, it wraps around the heel then connects to the vamp.
Lining. It gives additional protection and durability to the boots. The lining can either be out of fabric, leather or synthetic. The name for the lining on the insole is "the sock."
Tongue. It is the part that goes underneath the laces which cover the throat. Its function is to prevent both water and dirt in entering the boots.
Open Lacing. This part is the location of the bootlaces.
Throat. It is the central part of the boots which forms the seam and joins the vamp and the quarter together.
Eyelets. The small round holes that sometimes fixed with metal rings are the eyelets. It is also, the part where the laces are tied.
Vamp. It is the front area which helps in protecting the instep.
Toe. It is the flattish portion that broadens the vamp. The Toe also completely covers the toes up to the tip where it unites with the sole.
Welt. It is the border part of a boot. Usually, it is out of leather sewn along the edge part of the upper.
The Sole And Below
Here are the parts that aids in supporting the bottom of the foot which also provides comfort and balance.
Insole. It is the base part of the foot. It is also the part that anchors the upper parts all together.
Outsole. It is the strong outer sole part of the boot. Outsoles are ideally waterproof and are resistant to skids and slips.
Heel. It is the raised element located at the back and underneath part of the sole. Also, the heels lessen the impact of the ground to the heel of the foot.
Shank. It is out of plastic or metal plates placed into the sole. Also, a shank offers stability and aids in preventing the boot from deformity while worn. Comparatively, boots with low heels or wedge soles don't need a shank.
What are the types of Boots?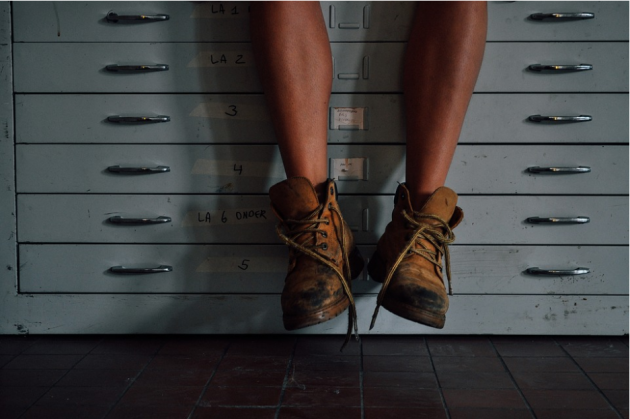 Derby Boots
They are like the counterpart of dress shoes. Anyone can distinguish a derby because of its laces. Usually, a derby's lace has eyelets stitched on the top of the vamp, which also creates an open front. Also, a derby is the type of dress boots that have smart leather soles. There are various colors of Derby shoes. There's tan, black, brown, and burgundy.
Chelsea Boots
Chelsea boots hit the spotlight thanks to the London rockers, The Beatles. Then, Chelsea Boots became the talk of the town and became the cowboy's favorite footwear. Due to the boots' elastic core construction, cowboys loved it.
These boots have a rounded toe ankle style plus a low heel with strap and buckle to fasten. Nowadays, Chelsea boots have different textures such as touchable suede, smooth cowhide, and buttery calfskin. Also, there are different colors of Chelsea boots namely black, brown and tan.
Brogue Boots
It is a boot that is an adaptation of a dress shoe which has the same name. Taking a leather dress boots and adding perforations, serration across the tops, some decorative stitches, then a person has his brogues.
The high-class brogue boots usually have long-wing brogue details and a handcrafted leather. It is the type of brogue boots that are a great match with a suit. A brogue boot with a wedge sole is best for smart casual weekends.
Chukkas or Desert Boots
These boots, named after a period of play in polo, is the chukker. Crafted traditionally, the Desert boots are from suede or calfskin uppers. Also, it typically has a crepe rubber design. To dress up in a more casual style, it is a good choice to wear leather sole. They are also perfect for chinos or smart jeans.
Hiker Boots
The perfect boots that can scale a mountain terrain. Besides hiking purposes, hiker boots are also great to achieve an aesthetic appeal of fashion for men. Crafted from premium leather, it focuses on giving durability and comfort. Also, hiker boots had rubber and rippled sole that functions for extra traction.
Biker Boots
These boots aren't just for men that want to have a rebel vibe. Though icons like Steve McQueen and Marlon Brando gave it a distinct rebel feel, biker boots are still in for men's modern fashion. It is made out of black leather and has an ankle-hugging trunk and a plump leather sole.
What to wear with dress boots?
BOOTS & KHAKIS
It is a great idea to pair boots with khakis. For a laid-back look, casual desert boots or chukka boots is a good choice. Men's boot plus khaki can match well when lounging around or going out. However, some boots can also be suitable for work; but still, it depends on the job's dress code.
BOOTS & JEANS
Men can never go wrong when wearing a pair of boots and jeans. It is a look that never goes out of style. It is also perfect for almost all occasions. Whether wearing biker boots, desert boots or fancy dress boots, it can look sharp with a pair of jeans. It is also a look that promotes comfort without compromising style. It is an ideal outfit for men that just want to dress up on lazy days.
BOOTS & DRESS PANTS
Wearing boots with slacks or dress pants can help in polishing a business suit or any formal attire. However, it is important to keep in mind that boots must be in the right style. Biker boots wouldn't go well with dress pants just as hiker boots won't. Correspondingly, brogue or derby boots can work well with it.
While attempting to find the most appropriate ways to wear boots, it is also important that the boots will fit the wearer's style and lifestyle. After determining the versatile style that fits both the job and lifestyle, try to mix and match the clothes and footwear to create a fashionable look.
Takeaway
Wearing boots isn't as bad as what others think. The footwear that can give a person a different aura whenever they are wearing it. Also, dress boots are footwears that can soon be a men's favorite because it works well in various fashion styles and preferences.
With enough knowledge, people can create a look while considering dress boots as the shoes that will be necessary for almost every day. There are different styles and designs that men can use when choosing the boots that they want to purchase on some online fashion destinations like French Connection.