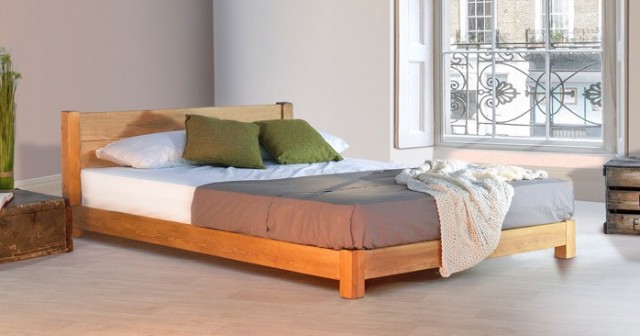 Pictured – A British Handmade Solid Wooden Low Bed – By Get Laid Beds
Low Beds to standard height beds, British businesses are increasingly outsourcing their production to save costs and increase their margins – and this has had a real impact on the quality and care of our products. However, we should all be supporting British manufacturing where we can, especially when it comes to high value items such as wooden beds that really benefit from the extra quality, care and customisation that is available.
Often there is a more personal touch between the business and its customers as well as the fact that you're supporting a local business and community. However, in this blog we'll be examining why buying from a British bedmaker, such as Get Laid Beds, can be beneficial in more ways than one.
Supporting British Bedmakers
While solid wooden bed frames are popular in the household, we don't usually consider where they were made from. However, buying a British from a british bedmaker can have a number of advantages. This includes supporting a declining carpentry profession that has played an enormous impact in businesses in the UK. Get Laid Beds, which is based in the heart of the UK in their leicester workshop, continues to use traditional and handmade solid wooden beds, and are renowned for the solid wooden low beds that they make. By exploiting the true craftsmanship and design from their long family heritage in carpentry, they have created significant value in the products that they produce for their customers. With this manufacturing approach, which goes against the common trend of streamlined manufacturing, Get Laid Beds are able to offer an enormous range of customisable options, such as different colour finishes, and bespoke size options (including their super large 9ft by 7ft Super-Caesar Bed). Above all, Get Laid Beds offer an 11 year guarantee on all their solid Scandinavian Pine beds as standard – which is something unheard of with mass produced manufacturing techniques.
We're now living in time where a huge majority of products are mass produced in factories, diverting our attention away from traditional values that a quality British made product can offer. We can often be left struggling to get exactly what we want when buying a bed from a large factory, but this certainly isn't the case with the British bedmaker, and Get Laid Beds have plenty of options to make each and every bed have that extra personal touch for their customers. This is why you should always consider buying British where you can.
Quality British Wooden Bed Designs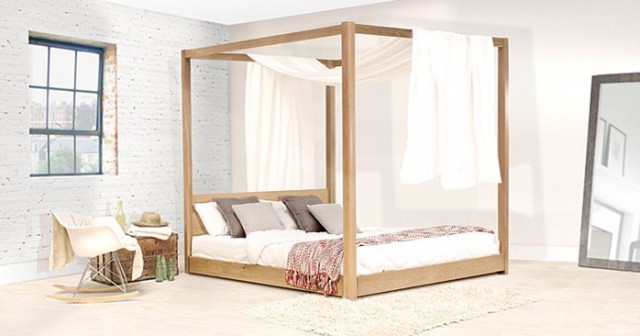 Pictured – A British Design Of A Low Four Poster Bed – By Get Laid Beds
Each of the wooden bed frames from Get Laid Beds is handmade right here in the UK. They're constructed using mortise and tenon joints which are among the strongest in the manufacturing industry. This construction method ensures a sturdy and long lasting bed frames for years to come. The materials are also high quality and are sustainably sourced. The expert craftsmen enjoy meeting the high standards customers now expect, and while the profession is in decline, they are sure that the wooden beds and low wooden beds that they design and make are set to inspire the next generation.Each of the bed frames are carefully designed to showcase true British craftsmanship, with each one carefully constructed and designed with care. The aim is for each bed to be personal to customers which is why customisation options are available and the final colour can be chosen too. This is certainly something which wouldn't be available in a factory made bed which is mass produced and bought 'as is' off a shelf.
We hope that those interested in carpentry won't be put off by the decline in the profession and will become the next 'inspiration' of a generation of craftsmen that produces quality designs, such as solid wooden low bed frames. If you would like more information – visit www.getlaidbeds.co.uk.